Rice is one of the foods that you can find more often in different gastronomies. However, one of the places where it is most present is in Asia. From the oriental countries, the brown jasmine rice has gone around the world to invade our tables with its rich flavor.
Besides, it can accompany different foods, and some countries prepare it in sweets as you can find in South and Central America.
If you are a fan of rice and want to learn how to cook it, you have come to the right place. Today we will take you on a gastronomic journey to teach you how to cook brown jasmine rice. Also, we bring you 2 delicious recipes to share with family and friends.
Read on and try this brown-tastic rice!
What is Brown Jasmine Rice?
Brown jasmine rice is a variety of rice that has its origins in Thailand. Its name is Jasmine because it is its white form has a similarity to the jasmine flower. Besides, this rice is characterized by its fragrance and elongated grain.
This type of grain is classified as "whole grain" because, unlike white rice, this one retains more minerals and vitamins. Besides, it does not contain gluten and is high in iron and fiber levels.
In general, this type of rice is much healthier than white rice. Here is a list of benefits so you can see for yourself.
Benefits of Rice
Like all foods that are part of a balanced diet, the brown jasmine rice brings many benefits to your health. That is because it preserves the bran, the germ, and the endosperm, components removed in other types of rice, such as white rice.
For this reason, brown jasmine rice has the following health benefits:
Stabilize your vitamin levels: Brown jasmine rice provides your body with vitamins such as vitamin B, which helps you maintain good metabolism. This food is rich in other minerals such as iron, perfect for supplementing your daily diet.
Improves your digestion: thanks to the levels of fiber it contains, this rice allows you to have faster digestion. So, say goodbye to the bloating and flatulence sensation of digestion problems. Because this rice will put an end to those symptoms.
It contributes high nutritional levels: the brown jasmine rice has about 350 calories by every 100 grams. Besides, it contributes 7 percent of proteins and, as we mentioned previously, it is rich in vitamins B.
Good for people with diseases: since it does not contain gluten and is low in glucose levels, it is perfect for people who suffer from diseases like diabetes. If you are looking for a healthy companion for your meal that will not harm your health anymore, you have chosen the right one.
It does not contain harmful ingredients: finally, the brown jasmine rice does not contain fat or sodium, two of the elements that are most harmful to your health. Making it safe for daily consumption and beneficial to your health.
Now that you know its benefits, you have to learn how to prepare it. Here are our recipe and three delicious dishes to accompany your brown jasmine rice. Enjoy!
How to prepare brown jasmine rice
It's time for you to know how to make a bowl of nice brown jasmine rice. Here we give you a step by step of everything you need to do. Do not skip any indication! Remember that following every step will give you the best result. Let's get started:
Ingredients:
2 cups of Jasmine rice
2.5 cups of water
How to do it:
To begin with the cook, we must put the rice in a thick pot, add plenty of water, and rinse it. It is not necessary to wash it several times, just enough to remove dust or small impurities that may come in the package.
Now we remove all the water and add the exact amount of water needed to cook it.
We flatten it and put it to cook over high heat.
When it starts boiling, we lower the heat to medium and cook for about 12 minutes or until all the liquid evaporates.
Turned off the heat, let it rest for 10 more minutes, and it's ready to serve!
Now that you have the rice ready, complete it with these delicious recipes!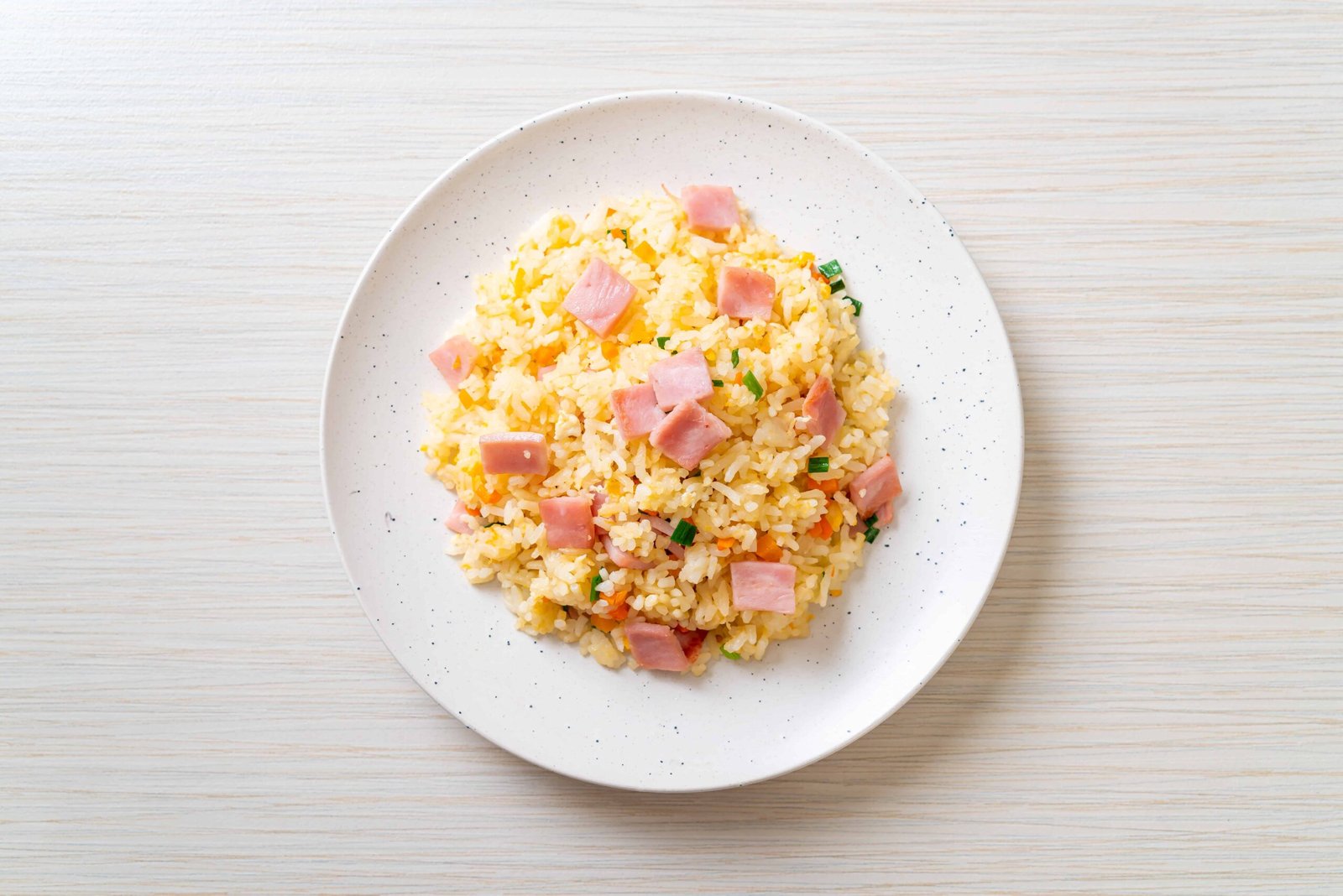 Recipes to accompany with brown jasmine rice
Curried rice
Ingredients:
2 cups of Brown Jasmine Rice
1 Tablespoon of curry powder
2 Tablespoons of vegetable oil
1 White onion, finely chopped
1 Garlic clove, finely chopped
4 cups of chicken broth
1 Pinch of salt
1 Tablespoon of parsley
15 centimeters of fresh ginger
How to do it:
Heat the vegetable oil in a frying pan over medium heat.
Cook the onion and garlic, taking care not to burn them.
Next, remove the peel from the ginger with the help of a spoon and sauté.
Add the rice and cook until it is transparent.
Then, pour the chicken broth, season with a little salt, and sprinkle the curry.
Cook for 15 minutes or until the rice is cooked. Correct the seasoning.
Remove the chopped parsley from the heat.
Serve in a large bowl.
Rice with onions and bacon
Ingredients:
2 Cans (10 1/2 ounces) (298g) beef broth
1 Can (10 1/2 ounces) (298g) onion soup
3/4 cup water
5 Strips of bacon, chopped
3 Cloves of ground garlic
3 Cups filled with Jasmine rice
How to do it:
In a microwaveable pot or container, pour the contents of the can of onion soup and broth, plus 3/4 cup water and heat.
In a pot, cook the bacon until crispy.
Discard half of the fat that the bacon released. Add the ground garlic and cook for a few seconds.
Pour the rice and fry for about a minute.
Then, put in the hot broth.
Keep at medium temperature and wait for the broth to evaporate.
Stir the rice and cover with the lid. Cook on low to medium heat for 15 to 20 minutes or until rice grains are tender. When ready, serve, and enjoy!