Are your kitchen drawers a mess? If your answer is yes, then you've come to the right place. Today we'll give you some tips to help you choose the cutlery tray right for you. Besides, we're listing the best cutlery trays on the market.
No more messy cutlery drawers; it's time to tidy up your kitchen with us!
How to Choose the Best Cutlery Tray
To begin with, you must have some knowledge about cutlery trays. Many times, we buy these accessories for our kitchen without having the right information. Therefore, they end up being an unnecessary purchase or do not fulfill their functions properly due to their poor quality.
That is why when you buy a cutlery tray, you should know mainly the measures of your kitchen cabinets. In this way, you will avoid problems when placing it inside the cabinet.
On the other hand, the material is the most important feature when deciding which cutlery trays are best for you. Here is a list of the most common materials for these accessories:
Bamboo cutlery trays
Among the best-selling models are those made of bamboo. This is because bamboo is an environmentally friendly and low-priced material. However, sometimes it is not the best choice, as its maintenance is delicate.
If you introduce wet cutlery, you will expose the material to deterioration. In the long run, the tray will grow mold and mildew, which could be harmful to your health. So, it is best to opt for another material if you want to avoid this type of problem.
Plastic cutlery trays
This is one of the best-selling cutlery trays on the market. This is because they are easy to manufacture, and also, they do not have the risk of getting damaged once they get wet. This is an excellent choice if you want an accessory that doesn't need a lot of care when you use it.
However, be sure to wash it with soap and water at least once a month. And before you take the cutlery trays home, check that the plastic is BPA-free to avoid possible health problems.
Metal cutlery trays
This last model is usually sold with a mesh shape so that water does not accumulate. They are excellent as they do not require much maintenance. However, sometimes they tend to scratch the surfaces on which they are placed. So, make sure you have the support rubberized if you decide to buy this model.
List of the Best 5 Cutlery Tray
MDesign Plastic Extendable Cutlery Tray: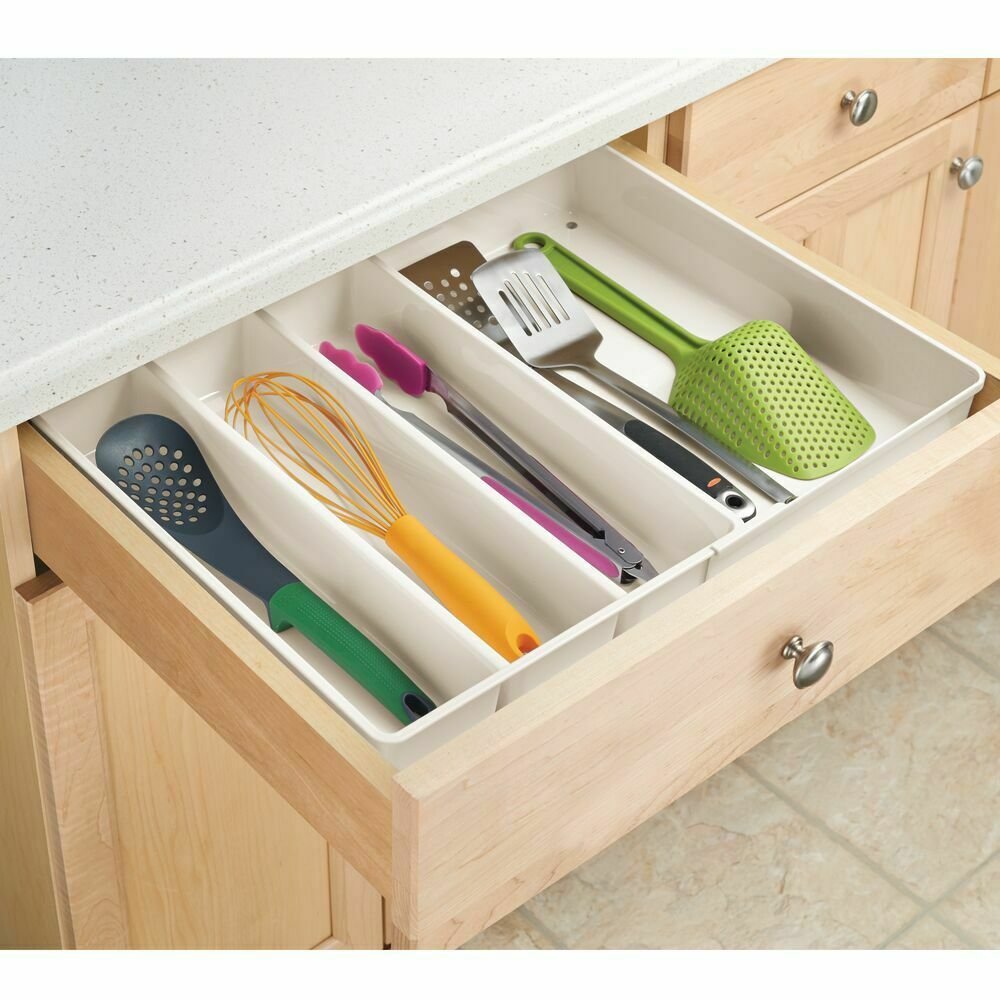 This first model has a BPA-free plastic structure. Besides, it is easy to keep clean, as you can wash it with water and delicate soap. Be sure not to put it in the dishwasher as it is not made for this type of maintenance.
Its durable plastic construction also comes with an extension. This will allow you to make it larger or smaller according to the size of your kitchen cabinets. Its support is covered with rubber, which prevents it from slipping.
You can find it at online stores like Amazon for as low as $20.19.
2. Artisware Bamboo Cutlery Tray Extendable: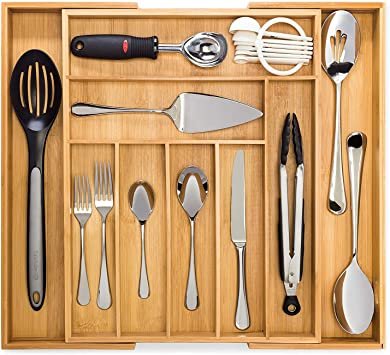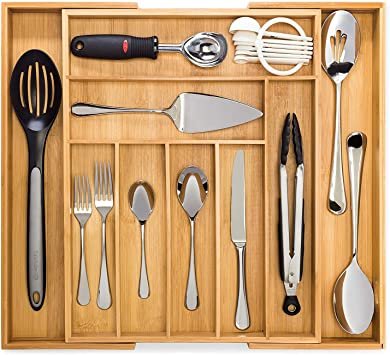 This brand brings us a perfect model for storing cutlery of different sizes. It has 7 compartments, and you can enlarge it up to 50cm thanks to its extendable capacity that allows you to store more and fit the size of your kitchen drawers.
It is specially designed in high-quality bamboo that gives it an elegant look. And it's easy to clean with a damp cloth. Always, taking care not to get the material wet to avoid mold and mildew.
For a price of around $26.99, you can take it home by ordering it from online stores.
3. Relaxdays Cutlery Tray for Small Metal Drawer:
This third model features 4 non-slip rubber feet, preventing them from scratching any surface. Its 5-compartment body is perfect for small drawers, allowing you to organize your cutlery efficiently.
This cutlery tray comes in a choice of black or silver, bringing an elegant look to your kitchen. It is easy to clean and keep properly hygienic as it does not allow water to accumulate, thanks to its net design.
All this for only $20.09.
4. MDesign 2 x 1 Plastic Cutlery Tray: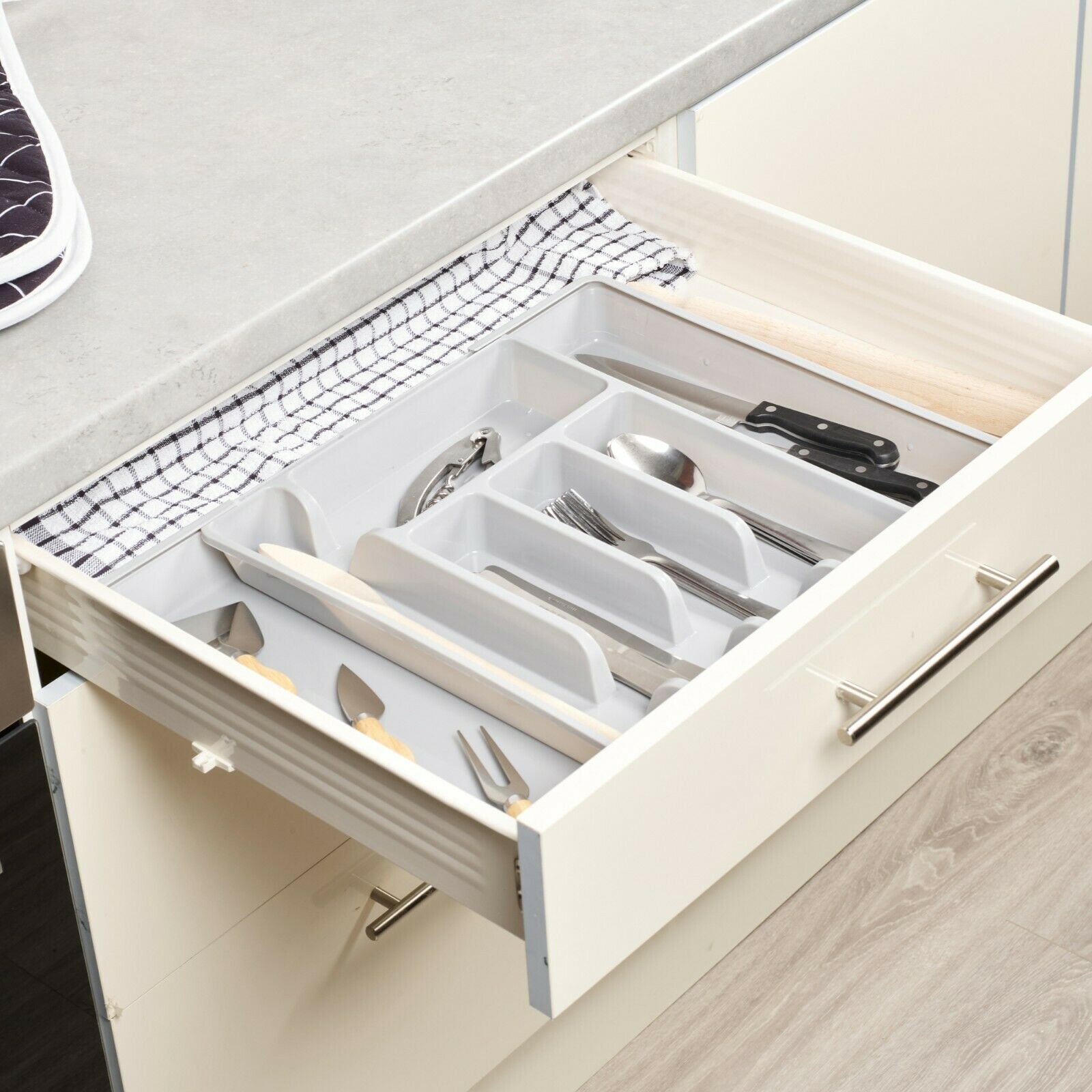 This brand brings us another BPA-free plastic design. Besides, it has two cutlery trays that can complement each other to lengthen the capacity or make it smaller. Whatever suits your needs.
Its material is durable and comes in a light gray color. It is easy to keep clean, and its four compartments are ample in size. This will allow you to store both large and small cutlery.
Take it home for only $40.91. Available at any online or physical store.
5. Relaxdays Extendable Bamboo Cutlery Tray:
Last but not least, Relaxdays bring a design cutlery tray of bamboo. This tray has 7 compartments that allow you to store a large amount of cutlery. Both small and large.
You can extend its size according to your needs. If you want a larger cutlery tray, just use the extension option, and that's it, more space for all your kitchen utensils.
The best part is that you only have to spend a total of $25.97 to take it home. Considering the high quality of the bamboo, this is a pretty budget-friendly price for you.
Ready to take the best tray at your kitchen?
Now that you have all the information you need, you just need to purchase the cutlery tray that best suits your needs. Choose the bamboo one for an eco-friendlier option. Or the plastic one for a more durable and easier to use cutlery tray. And why not the metal one, easy to use and with an elegant style.
Choose the one you desire, and start enjoying a tidy kitchen with all your cutlery in place. You'll feel the difference in just days. And your kitchen will thank you.